Red Bull Defiance
19 Jan 2019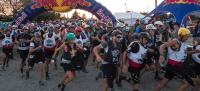 If you can run, kayak, mountain bike and abseil then the Red Bull Defiance 2-day team event is for you

You'll get an opportunity to cross a number of high country stations around the Wanaka region not usually open to public while competing in the event which is over 140km long.

Now individual athletes will be able to choose to do a single stage — either mountain biking or running. This is the perfect introductory platform for individuals thinking of stepping up next year.