Merino Muster
03 Sep 2022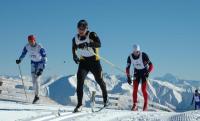 Snow Farm's headline event of every season – the Merino Muster draws national and international competitors to Lake Wanaka and the Cardrona Valley for New Zealand's high cross-country ski adventure.

From absolute beginners to the elite national team, competitors revel in the naturally sculpted back country of Snow Farm for both its stunning beauty and its challenging and exhilarating trails.

For the more relaxed athlete there is the 7 km course around Merino Glen which most people manage on their first day of nordic skiing. The 21 km course travels around Merino Glen and then out around River Run and back on The Loop. For the experienced cross country skier there is the 42 km Marathon which covers the 21km course and then heads out through Hanging Valley and then back around the Loop for a second time.

Held every year on the third Saturday in August, the Merino Muster is an event for lovers of snow and excitement and is one of winters most fulfilling experiences.