Puzzling World Junior Challenge and Intermediate Challenge
16 Feb 2023 – 17 Feb 2023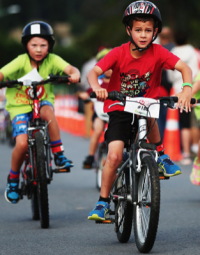 Join hundreds of budding triathletes, aged from year 1 - year 8 in the Puzzling World Junior Challenge Wanaka. It doesn't matter if you've never raced triathlon before. The Junior Challenge event provides a fun and safe opportunity for all children to challenge and compete individually against their peers in a fun and safe environment.

Swim through Lake Wanaka, bike along the Wanaka lake front and run over the Wanaka Challenge bridge, onto the red carpet and through the Challenge Wanaka finish! You will feel like a real champion as you cross the finish line and are awarded a medal, a T-shirt andmore prizes from Puzzling World.

The top girl and boy competitors in each age group will be presented with medals at prize-giving and be given the opportunity to be the balloon kids for the Challenge Wanaka lead pro male and female athletes on the Saturday. Prize giving for everyone will be at 4:00pm on Friday 15 February in the official Challenge Wanaka finish arena.

We are excited to announce that the programme for the Puzzling World Junior Challenge will be expanding to include a race for Year 7 and 8's on Thursday morning before all other ages up to Year 6 race as usual on Friday. Please bear with us as we detail the timings and course for this race.
We hope you will come along for a day of action packed fun and the opportunity to give triathlon a go!
https://www.challenge-wanaka.com/events/junior-challenge-wanaka/